Product introduction: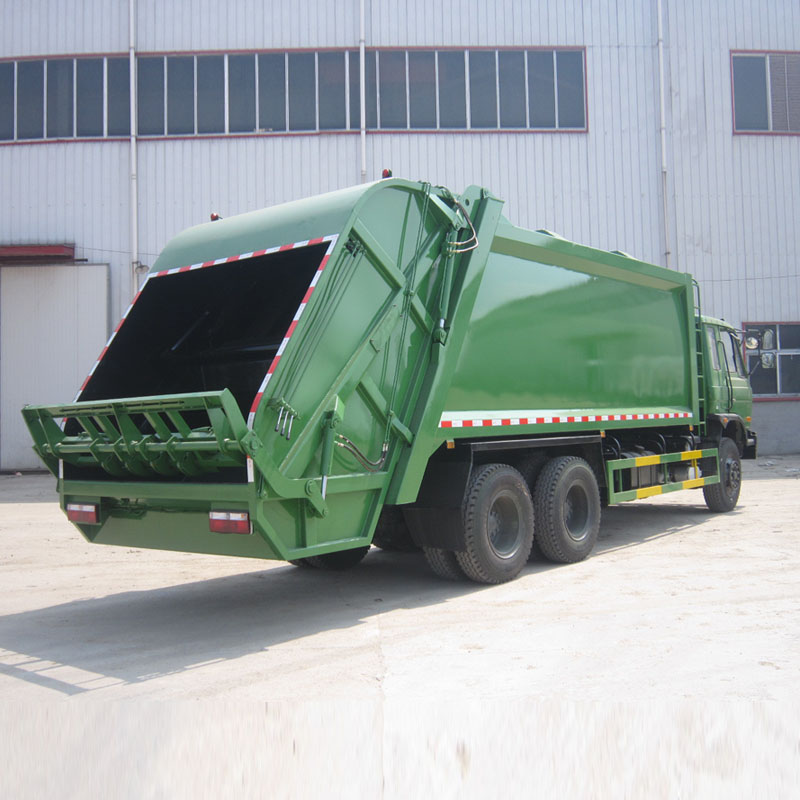 Vehicle parameters

Vehicle Model

HLW5253ZYSE

Vehicle Brand

HLW

Overall dimensions

10200×2500×3500mm

Curb weight

13705kg

Loading capacity

20m3
Chassis parameters

Chassis model

EQ5253GFJ2

Chassis brand

DONGFENG

Overall dimensions

9565x2470x2850mm

Wheel base

4750+1300mm

Front/rear wheel track

1940/1860/1860mm

Front/rear suspension

1245/2670mm

Approach/departure angle

28/15°

Maximum speed

85km/h

Chassis Manufacturer

Dongfeng Motor Corporation

Cab

Configuration

A row and a half deluxe cab(with sleeping berth),allowable 3 passengers

Color

Red,other color is optional

Engine

Model

B210 33

Emission

Euro 3

Type

6 cylinders, in-line,4-stroke,water-cooled,turbo inter-cooling,diesel engine

Rated power

210hp,rated power speed 2500rpm

Displacement

5900ml

Max.torque

700N.m

Bore x stroke

102x120mm

Manufacturer

Dongfeng Cummins Engine Co., Ltd.

Tire

Size

10.00-20 nylon tire

Number

10+1 nos

Frame

280×80×(7+5)mm

Fuel tank

200L,steel

Front axle

5.0T

Rear axle

10.0T

Drive form

6X4

Rated voltage

24V,DC

Transmissions

Gearbox 8JS118, 8 speed forward 1 reverse.

Steering device

Power assisted steering

Steering wheel

Left hand drive

Selective configuration

Air Conditioner,steel wire tire,new driver's cab

If there is a slight change in the chassis parameters above,please take the actual product as the standard
Upper structure parameters

Equipment

Structure

Body, sub frame, lifting rear part, the loading device, the pushing-out plate, hydraulic and electric systems

Loading capacity

20m3

System of loading

Mechanized, rear loading

Modes of the pressing

Manual,semi-automatic,automatic,lifting rear part operation manual,loading,pushing,pressing, pushing out automatic

Body

Version

All-metal

Shape

arc-shaped

Sidewalls

Sheet carbon steel (thickness: 4 mm)

Bottom

Sheet carbon steel (thickness: 5 mm)

Roof

Sheet carbon steel (thickness: 4 mm)

Front frame

Sheet carbonaceous steel (thickness: 5 mm)

Rear frame

П-shaped profile from sheet carbon steel (thickness:5 mm)

Basis

120х120mm (thickness: 5 mm)

Loading bunker

Loading bunker

All-metal with sidewalls and a loading ladle

Volume

1.8 m3

Sidewalls

Sheet carbon steel (thickness: 4 mm)

Ladle floor material

Sheet carbon steel (thickness: 5 mm)

Liquid drain

Drainage channel,sewage tank

Working zone Lighting

2 lamps

Mechanism of raising

Two hydraulic cylinders

Ensuring tightness

Between the body and lifting back part in the lower part profile acid-proof rubber is used.

Pressing system

Features

Control mode diversification,bidirectional compression

Pressure

16Mpa

Compaction ratio

3.0:1

Loading cycle

25-30 second

Unloading cycle

15-20 second

pressing mechanism

The giving plate and hinge related pressing plate moving on two directing bars

Pressing mode

Automatic pressing

(1 full cycle and continuous pressing) and controlling of each cycle of pressing separately

Control of pressing

Control from the external panel on the bunker

Lifting rear part

Mechanism of lifting

Two hydraulic cylinders

Function description

Suitable for various rubbish bins

Others

Color and Logo

Optional

Standard configuration

Chassis,arc-shaped body,sub frame,rear lifting part,loading bunker,pushing-out plate,hydraulic system,pressing system,sewage tank,climbing ladder,pneumatic control.

Selective configuration

PLC electric automatic control,multifunctional rear lifting part,rear handrail and footplate,other shapes of body,rear swing arm,and etc.
Sales Manager: Mr Cheng Bo
E-mail: cb@hltq.com
Mobile Phone: +86 13908667790
Wechat: +86 13908667790 (or: lovecxiwen)
Related products in the same category: